July 26, 2013 - REPTILIAN DEATH Signs With Old School Metal Records

Mumbai-based death metal outfit REPTILIAN DEATH has signed with Old School Metal Records for the October 10th release of the band's second full-length, The Dawn Of Consummation And Emergence.

REPTILIAN DEATH has long existed in the shadows of the Indian metal scene as the side project of Demonic Resurrection frontman, Demonstealer. The band spent their first 12 years making sporadic live appearances and changing line-ups fairly often. During that time, REPTILIAN DEATH had an almost humorous disposition, writing little spoof metal epics like '5 Easy Ways To Murder Someone' and 'Nursery Rhymes For Satan's Children' while balancing a handful of serious tracks which eventually found themselves on their 2004 debut, Total Annihilation. In 2006, the band's direction took a turn for the serious with the release of their EP Intestinal Feast on the Defaced And Split album, which also featured Exhumation, Warface and Narsil.

Shortly after the release, the band returned to the shadows until resurfacing in early 2013. The band exploded on the scene completely metamorphosed into brand new beast. Fronted by Vinay Venkatesh (Bhaynak Maut), dressed in priestly robes with his face painted half black and half white and backed by a band of masked members REPTILIAN DEATH has moved out of the shadows and into the forefront of the global metal community. The world will now see The Dawn Of Consummation And Emergence.


October 2nd, 2012 - Don't Miss Stonecreep on Tour in October
THE INFERNAL AUTUMN WEST COAST TOUR 2012

October 24- Anaheim, CA @ The Doll Hut
October 25- San Jose, CA @ Johnny V's
October 26- Eugene, OR @ Black Forest
October 27- Redmond, OR @ Big T's
October 29- Everett, WA @ Hayley's
October 30- Seattle, WA @ 2-Bit Saloon
October 31- Longview, WA @ The Regent

August 25th, 2012 - Don't miss Potential Threat on Tour with Death Angel in October
10/7 - Springfield, VA - Empire
10/8 - Charlotte, NC - The Casbah (at Tremont Music Hall)
10/10 - Atlanta, GA - The Earl
10/11 - Jacksonville, FL - Brewster's Roc Bar
10/12 - Tampa, FL - The Orpheum
10/13 - Miami, FL - Churchill's Pub
10/14 - Orlando, FL - The Social
10/16 - San Antonio, TX - The Korova
10/17 - El Paso, TX - House of Rock
10/18 - Tempe, AZ - Rocky Point Cantina
10/19 - W. Hollywood, CA - Whisky A Go Go
10/20 - Santa Rosa, CA - Last Day Saloon
10/21 - San Jose, CA - The Rodeo Club

June 3rd, 2012 - Don't miss the Stonecreep Summer tour
STORM OF THE DEATHMARCH U.S. TOUR 2012
June 16th- Portland, OR @ Ash St. Saloon
June 17th- Eugene, OR @ Black Forest
June 18- Pacifica, CA @ Winters Tavern
June 19th- San Diego, CA @ Brick By Brick
June 21st- Gilbert, AZ @ Crabby Don's
June 22nd- San Antonio, TX @ Zombies
June 23rd- Surfside Beach, TX @ Pier 30
June 24th- Baton Rouge, LA @ The Green Room
June 25th- Myrtle Beach, SC @ The Sound Hole
June 26th- Baltimore, MD @ The Sidebar
June 27th- Rochester, NY @ The Bug Jar
June 28th- Pittsburgh, PA @ 31st Street Pub
June 29- La Crosse, WI @ JB's Speakeasy
June 30th- Fargo, ND @ The Aquarium
July 3rd- Denver, CO @ 3 Kings Tavern
July 6th- Seattle, WA @ Fuel

June 1st, 2012 - Today we lost a dear friend. Without Tathi and her husband Marcello, Patrick Ramseier, CEO of OSM Records wouldn't have met Anger As Art front man Steve Gaines. RIP Tathi.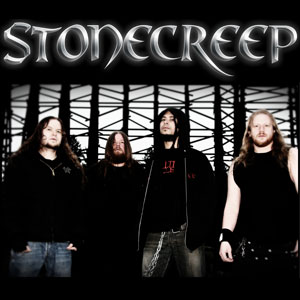 February 1, 2011 - Oregon based thrash metal band Stonecreep joins OSM family. "We are very excited to have Stonecreep join our family.", says Patrick Ramseier, CEO of OSM Records. We haven't been this excited in a while. Stonecreep brings a new element to the roster. The debut CD will hit the stores around May/June.
August 30th, 2009 - The brand new Song Crush from Anger As Art's next album Disfigure can be heard in the band section under Anger As Art. Just click play. The album is scheduled for world wide release on November 16, 2009.
July 1st, 2009 - New Website and Web-store unveiled.
June 1st, 2009 - Ryan Colaco from Kryptos is the first drummer from India to officially be endorsed by Vic Firth Drumsticks.
May 17th, 2009 - OSM Records signs Bay Area old school thrash band Potential Threat SF.
June 26, 2008
The final Tracklist for the upcoming debut album of Los Angeles thrashers HeXeN has been posted.
1. Blast Radius
2. Gas Chamber
3. Past Life
4. Knee Deep In The Dead
5. Chaos Aggressor
6. Bedlam Walls
7. The Serpent
8. No More Color
9. Mutiny And Betrayal
10. Seditions In Peacetime
11. Desolate Horizons
12. State Of Insurgency
13. Outro
OSM Records have set a date of August 5th 2008 for the US release and August 8th, 2008 for Worldwide release for the album.
The cover art was done by Ed Repka (Death, Megadeth etc).
March 19, 2008
Brazilians thrashers CHAOSFEAR have entered the studio to record their new album, entitled "Images of Disorder". The follow-up to "One Step Behind Anger" "will include 10 new songs and will be recorded with our original lineup," according to drummer Danilo De Freitas.
For more pictures of the recording sessions, go to www.chaosfear.com.
"Images of Disorder" is scheduled for release in the fall/winter through Old School Metal Records.
CHAOSFEAR was recently rejoined by original guitarist Edu Boccomino.
After quitting SCARS, Boccomino was interested in joining up with his brother Fernando once again. "Everything happened so naturally because we have been friends for such a long time," CHAOSFEAR previously said in a statement. "We just had a quick talk and started playing again. The band is very excited to have the original lineup back together."
March 17, 2008
Happy St. Patrick's Day!
March 17, 2008
HEXEN, the Los Angeles-based metal band that "fuses the elements of melody, heaviness, speed, and technicality within the lair of thrash," has inked a deal with OSM Records.
According to a press release, "HEXEN's influences include a very wide spectrum of sub-genres spanning from thrash to extreme/black. They have also been known to put more thought and imagination into their lyrics than your average thrash band. With subject matter expressing their cynical take on politics and inner struggles, the themes include quite strong social commentaries. While a surplus of L.A. bands are currently in futile attempts to reanimate the '80s by cloning styles and riffs of bands at the time, HEXEN incorporates all the best aspects of the art to form original music of a new and refined sound essential to their brand of metal, while retaining the hardcore spirit of thrash's originally loud, rebellious, chaotic premise."
"HEXEN brings the true meaning of old school to the table and we are very excited to have them part of the OSM Records family," comments OSM Records owner Patrick Ramseier.
HEXEN's debut album, titled "State of Insurgency", is slated for a late summer release.
March 15, 2008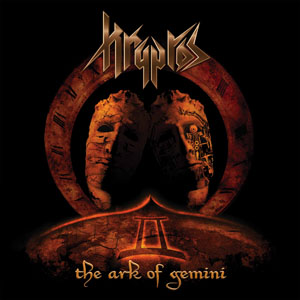 OSM Records has set June 13th as the new release date for the sophomore album from Bangalore, India-based thrashers KRYPTOS, entitled The Ark of Gemini.
According to a press release, the CD will feature "nine new tracks of heavy, precision, melodic metal with lethal doses of thrash aggression.
"Imagine CORONER, DARK TRANQUILITY, CANDLEMASS and JUDAS PRIEST in a bar room brawl and you'll be somewhere in the ballpark about what this album will sound like."
The cover art is pictured below, the tracklist is as follows: 'Sphere VII', 'Order Of The D.N.A.', 'Heretic Supreme', 'Tower Of Illusions', 'The Revenant', 'Vulcan', 'Trident', 'Liquid Grave', 'In The Presence Of Eternity'.