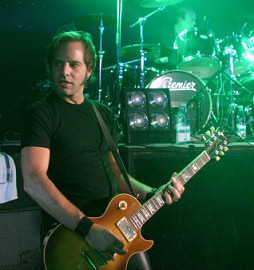 Ruffians was born out of friendship and the mutual musical interests of its founding members Craig Behrhorst (Guitar/Background Vocals), Luke Bowman (Drums) and Chris Atchison (Guitar/Background Vocals). The band debuted at the famed San Francisco punk rock venue the Mabuhay Gardens in December ¹83. Soon after, the band changed their line-up and recruited long time friend Dan Moura on bass. It then became evident that the group was in need of a stronger front man who would be able to take them to the next level. After placing numerous "vocalist wanted" ads and too many auditions to count, they finally found a singer/front-man in that of Carl Albert. Management and Band agreed that Carl was the stuff that legends are made of and just in the nick of time. The band was scheduled to play a gig in less than two weeks opening up for Alcatrazz at the Kabuki Theatre in San Francisco.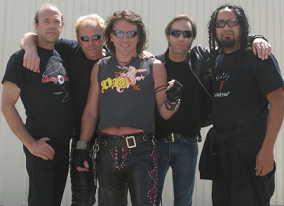 Hailing from the mountain town of Sonora, California, Carl was more than anyone could ask for. With the dual guitar sound of Craig and Chris along with Luke's powerhouse drumming, Carl¹s powerful and melodic vocals had given the band the sound they had been looking for. Ruffians then hit the Bay Area club circuit with a bang! Ruffians played many shows throughout 1984 and were definitely on their way, securing support slots for bands such as Loudness, Y&T, Dokken, U.F.O., Saxon, and Savatage. The band began to headline shows throughout the Bay Area, as well as co-headline shows with their hometown friends Exodus, Death Angel, and Vicious Rumors. In 1984 Ruffians recorded a 4-track demo tape featuring the tracks "Fight For Your Life", "Wasteland", "Bad Boys Cut Loose", and "Eyes of Fire". The demo was well received in the States and abroad, by Fans and the Metal Press alike. However, Ruffians were neither a "big hair" band nor were they thrash metal. They were a difficult act to sell to the major label executives at the time. This was the early days of heavy metal, prior to the genre becoming part of the mainstream as it is today.
As such, Ruffians' management decided to take matters into their own hands by forming it's own label, Victory Records, to release the band's debut album. In January 1985 Ruffians entered Studio D in Sausalito, California to lay down tracks for the six-track Mini-LP. Released in May, the EP was quickly picked up by over 200 College radio stations in the United States as well as charting in Europe and Japan. The EP received great reviews from the international and domestic press, and the band¹s fan base grew much larger. Sublicensed to SPV/Steamhammer in Germany and FEMS in Japan, the album was released in vinyl format and later on Compact Disc. These have become highly collectable items over the years. Whiplash Records in Belgium also released it as a limited edition on vinyl. "Run For Cover" was released on a Restless Records Compilation, "Eastern Front-Live at Ruthie's Inn"; and "Wasteland" was featured in a major motion picture, American Ninja II, a cable TV
classic still to this day.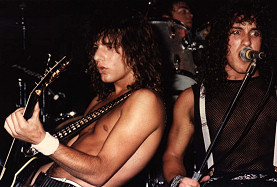 Despite all this, Carl felt the need to move back home and join Villian at the close of 1985. Villian was a band made up of his long-time boyhood friends. With Carl's departure, Ruffians were faced again with finding a front man to take the helm. After auditioning over 50 vocalists they found the perfect match in Alaska native Rich Wilde who joined the band in early 1986.Rich's powerful voice and solid song writing skills assisted Ruffians in their efforts to maintain momentum. In 1987 the Band went back into the studio this time with Rich on vocals and the result was a new 4-Track demo featuring the tracks "Do or Die", "Unchained", "Through Your Eyes" and "Only The Strong Survive". The demo was circulated throughout the underground metal scene, but none of the songs were ever officially released. Touring throughout the West Coast the band continued playing live and adding to their worldwide fan-base.
In early 1989 the band split up, but the fans and supporters remained to this day, making a Ruffians reunion a reality when the band was invited to play Germany's legendary Bang Your Head Festival in June of 2004. This would be the bands first ever shows in Europe. Ruffians were received with rave reviews and had realized that their cult status in Europe was still alive and well 15 years later! Victory Records in connection with Old School Metal Records are pleased to re-release Ruffians 1985 self-titled debut album. This double disc release includes live tracks recorded in 1985 at The Stone in San Francisco, unreleased demo tracks from 1984, and demo tracks from 1987. As a special bonus we've also included video footage from Ruffians first ever reunion in Balingen, Germany in 2004.
Tentative title is "There and Back" the release date is scheduled for
August 2005.