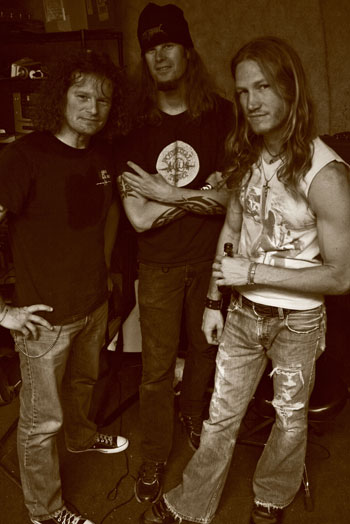 POTENTIAL THREAT WAS FORMED IN 1987 BY BROTHERS MIKE(GUITAR) AND KENNY(DRUMS) NOBLE.THEY STARTED OFF BY PLAYING CLUBS LIKE THE STONE IN SF AND THE OMMNI IN OAKLAND.AFTER OPENING FOR BANDS SUCH AS DEATH ANGEL ,SLAYER,THE CRO-MAGS THEY RECORDED THEIR FIRST 2-SONG DEMO FEATURING "RICH BITCH" AND "SELF-INFLICTED PAIN".IN 1990 WHEN THE BAY AREA THRASH SCENE WAS WINDING DOWN P.T. PARTED WAYS.MIKE AND KENNY TOOK A GIG PLAYING WITH THE BAND SHOCK FACTOR,WHO WAS GETTING READY TO RE-LOCATE TO GERMANY.
SHOCK FACTOR ARRIVED IN GERMANY AND WITHIN THREE MONTHS WERE SIGNED TO THE INDIE LABEL BIG STORE AND RELEASED THEIR ONLY RECORD "REALITY".AFTER ABOUT 4 YEARS OF TOURING IN EUROPE THE SINGER FOR SHOCK FACTOR LEFT TO JOIN GERMAN PUNK BAD THE SPERMBIRDS.MIKE AND KENNY THEN FORMED TWO-SECOND MICKEY WITH THE REMAINING MEMBERS OF SHOCK FACTOR.
TWO=SECOND MICKEY WAS THEN SIGNED TO THE INDIE LABEL SNOOP RECORDS.THEY RELEASED AN EP ON THE LABEL NAMED "ORIGINAL MOTION PICTURE SOUNDTRACK"AND CONTINUED TO TOUR IN EUROPE.
NOW IN GERMANY FOR ABOUT 7 YEARS THE BROTHERS DECIEDED TO RETURN TO THE U.S.THEY STARTED POTENTIAL THREAT AGAIN WITH THE ORIGINAL BASS PLAYER.THEY PLAYED IN SF AND ALSO RETURNED TO EUROPE FOR SOME TOURS.
IN 2004 THEY RELEASED A 4-SONG EP TITLED "2.0".THE NEXT 2 YEARS HAD SOME LIE-UP CHANGES AND ENDED UP WITH DAMIEN SISSON WITH WHOM THEY RECORDED THEIR FULL LENGTH RECORD.TO BE RELEASED I THIS SUMMER.