Nerlich was formed in the Fall of year 2003 by Miikka Merikallio (bass, vocals) and Lari "Kalevi" Pyykkö (drums) who soon found a guitarist called Jarno Nurmi which completed the line-up. The first s/t demo was recorded in February 2004. After the demo Lari left the band and Miikka switched from bass to guitar. After few months Pekka Johansson joined the band as bass player and Teemu Mutka took over the drums. A second demo called "Insane Creations - Inorganic Echoes" was recorded in October 2004 at Cursed studio by J.Loikas.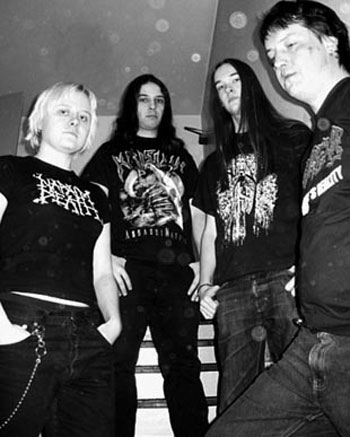 In the beginning of year 2005 Pekka and Jarno decided to leave the band. In April 2005 the second demo was released on "Embalmed Madness" split cd-r (w/Gorgasm and Decoherence) by Nihilistic Holocaust. A new recording called "Promo 2005" was done in June with the new guitarist Otso Kirvelä. Tommy Metsälä joined the band right after the recording of the the promo to play bass. A few months later Otso left the band due to an arm injury and he was replaced by Davi Moreira. Also things didn´t work out with bass player Tommy either and he was replaced by Hanna Kauppinen.
In the end of 2005 we begun recording of our first full length album "Defabricated Process" at Cursed studio. The album was engineer and produced by J.Loikas. A demo compilation (including all three Nerlich demos) is going to be released in May 2006 through Conqueror of Thorns Records.
The "Defabricated Process" full lenght is scheduled to be released in December 2006 through OSM Records.

Line Up:
Hanna Kauppinen: bass
Davi Moreira: guitar
Miikka Merikallio: guitar, vocals
Teemu Mutka: drums
website: www.nerlich.tk